Siegel Family Endowment is happy to introduce the 2023-2024 cohort of researchers, academics, and public policy experts who make up the foundation's Siegel Research Fellows Program. Selected by leading institutions included in our research grants portfolio, these individuals will conduct research broadly at the intersection of social science and technology, with a focus on questions around intelligence, information, innovation, development, decisions and design.
As compared to last year's cohort, we have continued to expand this year's group of host institutions to include not only academia, but also think tanks and other non academic centers. We are especially excited to include a creative research fellow as well as a fellow hosted at a HBCU. We anticipate that this cohort will further enrich the research contributions of the foundation, while also advancing the research goals of the fellows and broadening the audience for their discoveries and insights. Throughout the year, fellows will participate in core activities, including monthly research seminars, events hosted by the fellows and their respective host institutions, collaborative content creation focusing on engaging non-academic audiences, and an in-person networking event. John Irons, Senior Vice President and Head of Research, will continue to oversee the program with support from Siegel's research team.
This group of fellows currently includes:
Yvonne Eadon
Center for Information, Technology, and Public Life, University of North Carolina
Dr. Eadon (she/her) obtained her MLIS and PhD in Information Studies from UCLA. Her dissertation, titled "'They Are the Conspiracy Theorists, Not I:' Mapping the Research Selves of Counter-Establishment Researchers," explored the research practices of people who research alternative or counter-establishment topics, often characterized as "conspiracy theories." Current areas of research extend this work.
Conceptualizing conspiracy theorizing as a form of knowledge production, she investigates feminized conspiracy theories and the gender dynamics within online communities that form around them, as well as how information institutions interface with and assist alternative or counter-establishment researchers. Find Yvonne @yvonnemelisande and on LinkedIn.
Christian Edlagan
WASHINGTON CENTER FOR EQUITABLE GROWTH
Christian Edlagan is the associate director of academic programs at the Washington Center for Equitable Growth. He is responsible for helping Equitable Growth broaden and strengthen its academic network, identify opportunities and tools to close the gap between academics and policymakers so that research is informative and actionable, and steward relationships with Equitable Growth's advisory bodies and partner research institutions.
Currently, he is supporting the organization's exploratory efforts to fund and elevate policy-relevant research on the economic implications of AI and other emerging technologies. He is also developing new programming to help equip and position scholars for government service and engagement in policy debates.
Prior to joining Equitable Growth, Edlagan worked in advocacy and digital organizing roles for the National Endowment for Democracy, Groundswell Clean Energy, and the United Nations Free & Equal campaign. He has also served on the nonprofit boards of KAYA: Filipino Americans for Progress and the Conference on Asian Pacific American Leadership. He is currently pursuing an M.Sc. in labor studies at the University of Massachusetts Amherst and is researching the roles of labor organizing and solidarity economics in shaping the future of work. He earned a B.A. in political science from Loyola University New Orleans. You can find Christian @EdlaganX.
Breanna Green
CORNELL TECH
Breanna E. Green is a PhD Candidate in the Information Science department of Cornell University. Her background in psychology paired with an interest in methods from communication, computer science and political science has led to doctoral work focused on examining online spaces for moral opinions of political violence using natural language processing (NLP).
Her current projects include NSF-grant funded projects related to prosocial objections, measuring time to politicization in YouTube threads, and gauging moral sentiment related to political events such as January 6th. Find Breanna at @BreannaEGreen, LinkedIn, Github, and at https://bregreen.github.io/.
Seungwoong Ha
SANTA FE INSTITUTE
Seungwoong is an Applied Complexity Postdoctoral Fellow at Santa Fe Institute (SFI). His interests range from statistical physics, complex systems, network science, social science, artificial intelligence, and deep learning as well. During his Ph. D., he attempted to solve problems in complex systems by constructing novel and interpretable neural networks. Now he is slightly shifting his focus to more social systems and wants to formulate/model the emergence/evolution of diverse social phenomena.
At SFI, He will mainly explore how people's knowledge and opinions change in the community from both belief dynamics and machine learning perspectives.
Seungwoong received his B.S., M.S., and Ph.D. in Physics from KAIST, and previously at the School of Computational Sciences at the Korea Institute for Advanced Study (KIAS) as a Postdoctoral research fellow. Find Seungwoong @seungwoong_ha.
Michaela Henley
BLACK TECH FUTURES, STILLMAN COLLEGE
Michaela is a results-driven, service-minded professional who has committed her life to serving people and working towards social equity by way of programs for 10+ years. She is currently working on a Black-focused Public Interest Technology curriculum at #BlackTechFutures Research Institute. Prior to, Michaela supported an early-stage startup founder integrating DEI into their L&D strategy and onboarding Subject Matter Experts. Formally, Michaela has served in a variety of roles at educational non-profits and institutions, and after 10 years in the space, she is looking to expand her experience at the intersections of technology, policy, and learning.
Michaela holds a Master of Science in Public Policy and Management from Carnegie Mellon University and a Bachelor of Arts in English from Georgetown University. She has also completed USF's Diversity, Equity and Inclusion in the Workplace Certificate Program. Find Michaela on LinkedIn.
Basileal Imana
CENTER FOR INFORMATION TECHNOLOGY POLICY, PRINCETON UNIVERSITY
Basileal Imana is a postdoctoral research associate at Center for Information Technology Policy at Princeton University. His research interests broadly lie in studying privacy and algorithmic fairness properties of real-world systems on the Internet. He focuses on developing novel methods for auditing the fairness of algorithms used to deliver content on social media platforms without introducing new privacy risks to platforms or users.
Imana received his Ph.D. in computer science from the University of Southern California. Prior to USC, he received his BSc in 2017, also in CS, from Trinity College Connecticut, where he worked on solving computationally difficult problems using high-performance computing. You can find Basileal @basilealyos.
Nick Logler
TECH POLICY LAB, UNIVERSITY OF WASHINGTON
Nick Logler is a postdoctoral researcher working in the Tech Policy Lab at the University of Washington. His research sits at the intersection of the possibilities available to us (imagination), the substances we use to enact these possibilities (materials), and the tools and practices we use to re-envision the boundaries of both (design). To date, Nick's research on materials and imagination has centered on the different possibilities we might envision for discarded consumer electronics, and e-waste in general. He is currently thinking about More-Than-Human Centered Design and developing tools and resources to foreground questions of materiality in tech policy. Find Nick @nlogler on LinkedIn.
Dylan Nelson
WORK OF THE FUTURE, MASSACHUSETTS INSTITUTE OF TECHNOLOGY
Dylan Nelson is a postdoc at the MIT Sloan School of Management, Work and Organization Studies Area. His research examines how the organization of work can create opportunity for frontline workers by increasing the value of their work to employers over time. To conduct this research, he uses U.S. federal administrative records following all companies and workers from 1996 to 2021.
Dylan also studies the worker earnings, benefits, and labor mobility impacts of private equity buyouts, structured management practices, and new manufacturing technologies. Find Dylan on LinkedIn and at www.dylanknelson.com.
Megan Shahi
CENTER FOR AMERICAN PROGRESS
Megan Shahi is the director of Technology Policy at American Progress. She has extensive experience across the U.S. public and private sectors and has spent the majority of her career promoting transparency and accountability inside some of the world's most influential social media companies. She is deeply passionate about enacting smart and future-proof technology regulation in the United States and positively influencing the intersection of technology and public policy.
Prior to joining American Progress, Shahi worked at Meta, Instagram, and Twitter, where she advocated for user-
choice functionality and control, wrote substantial platform policies, and shaped product strategies to safeguard social media users from both real world and online harm. She was a crisis manager in Meta's first-ever U.S. election "War Room" in 2018, which worked to combat misinformation and inauthentic behavior. Shahi also architected Instagram's product and content policies for the launch of its short-form video product—Reels—and guided Twitter's strategy to comply with the European Union's Digital Services Act. She helped each organization balance policy, safety, and regulatory interests with profit, growth, and engagement incentives to promote safe expression for global user bases.
Before her time working in the technology industry, Shahi served at the U.S. Department of the Treasury in the Office of International Affairs and the Office of Domestic Finance, where she specialized in Western Hemisphere economic policy and domestic financial inclusion, respectively. She began her career in public service at the White House Domestic Policy Council.
Shahi hails from the San Francisco Bay Area and is a graduate of The George Washington University's Elliott School of International Affairs. Find Megan @meganshahi and on LinkedIn.
Caroline Sinders



CONVOCATION RESEARCH + DESIGN
Caroline Sinders is an award winning critical designer, researcher, and artist. They're the founder of human rights and design lab, Convocation Research + Design. For the past few years, they have been examining the intersections of artificial intelligence, intersectional justice, systems design, harm, and politics in digital conversational spaces and technology platforms. They have worked with the United Nations, Amnesty International, IBM Watson, the Wikimedia Foundation, and others. Sinders has held fellowships with the Harvard Kennedy School, Google's PAIR (People and Artificial Intelligence Research group),
Ars Electronica's AI Lab, the Weizenbaum Institute, the Mozilla Foundation, Pioneer Works, Eyebeam, the Information Commissioner's Office (the data protection and privacy regulator of the UK), the Yerba Buena Center for the Arts, the Sci Art Resonances program with the European Commission, and the International Center of Photography. Their work has been featured in the Tate Exchange in Tate Modern, the Contemporary Art Center of New Orleans, Telematic Media Arts, Victoria and Albert Museum, MoMA PS1, LABoral, Wired, Slate, Hyperallergic, Clot Magazine, Quartz, the Channels Festival, and others. Sinders holds a Masters from New York University's Interactive Telecommunications Program.
They've been named by Forbes as an AI Designer to Watch in 2017, won the bronze award for Webby's Anthem Award's responsible technology category for a toolkit they created for technologists and community organizers for how to hold safe and caring events during COVID19, shortlisted for a Fast Company's Innovation by Design Award in the Social Good Category for a product they lead design on, and they have provided insights, critique and feedback to internationally regulatory bodies such as the ICO and FTC on technology, design, digital harm, and policy. Their artwork on disinformation has been described "work [that] helps us better understand how easily visual culture contributes to their credibility" by Hyperallergic.
Caroline is currently based between London, UK and New Orleans, USA. Find Caroline @carolinesinders, on LinkedIn, and at https://carolinesinders.com/.
Ranjit Singh
DATA & SOCIETY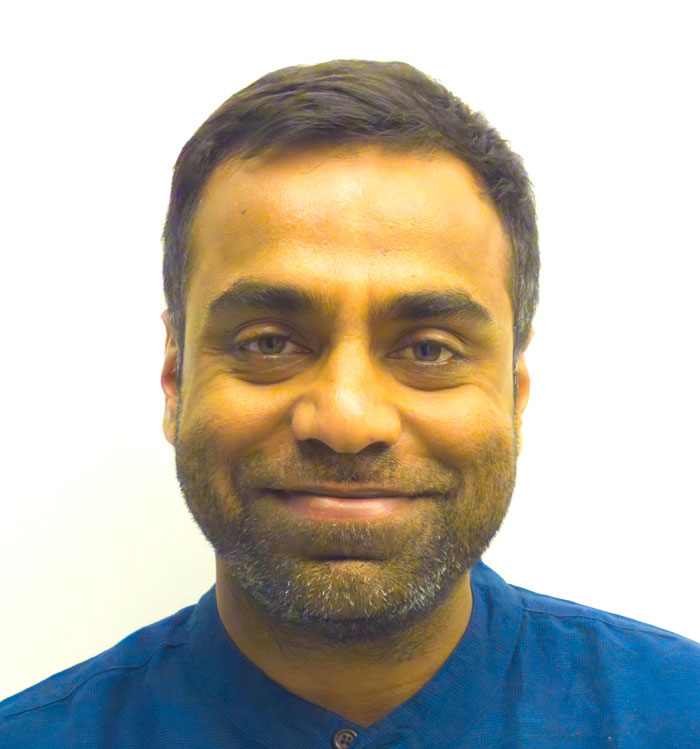 Ranjit Singh is a senior researcher at Data & Society, focused on qualitative research for the Algorithmic Impact Methods Lab (AIMLab). With a particular focus on research equity, he also helps guide research ethics at the Data & Society Research Institute and develop equitable research practices both internally and with external partners.
His research sits at the intersection of data infrastructures,
majority world scholarship, and public policy for algorithmic systems, and uses methods of interview-based qualitative sociology and multi-sited ethnography. His work broadly examines the everyday experiences of people subject to data-driven practices and follows the mutual shaping of their lives and their data records, aiming to understand how data is increasingly used to imagine and develop new digital solutions for democratizing inclusion. Find Ranjit on LinkedIn.
Eleanor Tursman



ASPEN DIGITAL
Eleanor Tursman is an Emerging Technologies Researcher at The Aspen Institute, where they work at the intersection of novel technologies, public education, and public policy. Eleanor is a computer scientist by training invested in bridging the gap between academic research and policy to promote social good. They believe in advancing science-
based governance of artificial intelligence and other emerging technologies, tools which—despite their potential benefits—can also be used to disenfranchise and discriminate against minority groups, threaten democracy, and propagate disinformation.
Prior to joining The Aspen Institute, Eleanor served as a TechCongress fellow in the office of Representative Trahan (D-MA-03), providing technical and scientific support for topics including health technology, educational technology, artificial intelligence, algorithmic bias, and data privacy. They also worked as a computer vision researcher at Brown University, with a specialty in 3D imagery and the human face. Their research centered on finding new ways to approach deepfake detection, with a focus on long-term robustness as fake video becomes harder to visually identify.
Eleanor has an M.S. in computer science from Brown University and a B.A. in physics with honors from Grinnell College. Find Eleanor on LinkedIn.
Hannah Waight
CENTER FOR SOCIAL MEDIA AND POLITICS, NEW YORK UNIVERSITY
Hannah is a postdoctoral researcher at the Center for Social Media and Politics (CSMaP) at New York University. She received my Ph.D. in May 2022 from the Princeton University Sociology Department. Fall 2024 she will join the University of Oregon Department of Sociology as an assistant professor.
Hannah studies the control and reception of information in
authoritarian regimes with a particular focus on China. Her Ph.D. research investigated the relationship between bureaucratic discretion and the content, amplification, and visibility of state media manipulation in print and digital media in China. In my postdoc she is examining how and when state propaganda gets amplified on news recommender algorithms in China and through generative AI.
Hannah has also completed and ongoing projects in the sociology of perception, history of social thought, and gendered harassment and social media participation.
Methodologically Hannah uses a range of tools, including primary document analysis, interviews, machine learning, survey experiments, and computational text analysis. She holds a BA in East Asian Studies and an MA in Regional Studies: East Asia, both from Harvard University. Find Hannah @hwaight, LinkedIn and BlueSky: @hwaight.bsky.social.
Sara M. Watson



ALL TECH IS HUMAN
Sara is a technology critic and industry analyst. Her intersectional career covering data, privacy, and tech policy bridges industry, policy, and academia. She is currently appointed as a Siegel Research Fellow with All Tech Is Human mapping the responsible technology ecosystem. Sara has been a fellow at the Berkman Klein Center for Internet and Society at Harvard University where her work on personal data and privacy raised awareness of data's role in the digital economy. As a fellow at the Tow Center for Digital Journalism at Columbia University, her research on the media's evolving coverage of technology advocated for more constructive technology criticism.
Sara has covered emerging tech trends as a principal analyst at Forrester, Insider Intelligence, and the Gartner Research Board.
Her writing appears in The Atlantic, Wired, The Washington Post, Slate, Motherboard, and other publications, and her work has been cited in the Financial Times and The New Yorker. She presents at technology conferences around the globe.
She holds an MSc in the Social Science of the Internet with distinction from the Oxford Internet Institute and graduated from Harvard College magna cum laude with a joint degree in English and American literature and film studies. She spent much of the last decade living in Singapore and China and is now based in New York City. Find Sara @smwat, LinkedIn, and at https://www.saramwatson.com/.
---
NOTE: One additional fellow will be added to the cohort by 2023 hosted by the Center for Democracy and Technology.